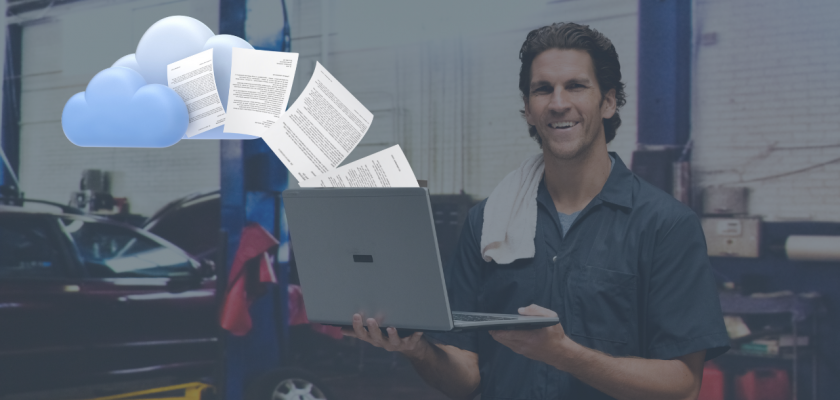 With the rollout of R.O. Writer Version 3.1, we sat down with Rick Stermole, Director of Business Development for R.O. Writer, for his take on what makes this new version so exciting, and to get a glimpse into the future of the leading auto shop management software. Rick joined the R.O. Writer team more than 20 years ago in 2001 and has been heavily involved in its development since then. Rick has 45 years of experience in the heavy truck and automotive aftermarket and holds several ASE Certifications, including ASE Master Certified Automotive Technician, ASE Master Certified Heavy Duty Truck Technician, and L1 ASE Certified Advanced Engine Performance Specialist.
In the first part of our interview, Rick talked about the new features of Version 3.1. In the second installment, Rick discussed a new development that will bring about a dramatic change to R.O. Writer. In this final segment of the interview, Rick sheds light on how the R.O. Writer team decides what to include in each new release of the software, and also shares what recommendations he would make to a shop owner preparing to select a shop management software package for their own business.
Q: How do you decide what features or improvements to prioritize for each new release of R.O. Writer?
A: It's a bit of a juggling act. You're keeping an eye on the market and watching the competition. You're listening to your customers, and making sure you're giving them what they want and need. And you're also trying to be inventive and innovative, and keep pushing the product forward.
When we do a release, we always put things into three different buckets. You have adjustments or improvements to current features, things that aren't working quite the way we'd like and that we need to fine-tune in some way.
Then you've got customer requests. We always listen to our users, then evaluate and prioritize their requests. With every new release, you have to have some things in there that the people want. Our shop owners wanted texting, and they wanted online appointments. We're excited to be able to give them both of those things with Version 3.1.
And then you have the new stuff, things our users haven't asked for but we know they're going to like. The reality is, customers aren't always looking for groundbreaking features. They're focused on running their shop, or shops. They know what will help them today, they're not necessarily looking to the future. That's our job. We have to be on the lookout for new partnerships, innovative features, and new ways for R.O. Writer to make their job easier, then bring those things to them before they think about it.
You really do need a mixture like that to keep everybody happy, keep things moving forward and have a great product for both your existing customers and prospects. We want to turn people's heads and make them say "that's a product I need to have in my shop."
Q: What would you say to a shop owner who is currently evaluating auto shop management software?
A: I would encourage them to thoroughly evaluate all their options. We are always happy to do a full demonstration to shop owners to show them all the ways R.O. Writer can make their shop more successful. Interested shop owners can book a complementary demonstration, here: https://info.rowriter.com/demo/
R.O. Writer was one of the first shop management software companies ever built. Over the years, we've gained thousands of customers, built strong relationships with leading industry partners, and continuously added to the product, making it the most feature-rich solution available. Our software is designed to help auto repair shop owners improve their bottom line by providing a suite of tools to help them manage every aspect of their business. And these tools are designed to help not only the owners but all their employees, from office managers and bookkeepers to technicians and service writers.
With all its new features and improvements, R.O. Writer Version 3.1 shows our commitment to innovation. We are constantly looking to improve our software for your customers, to meet their needs in providing superior service while making their repair shops more efficient and more profitable. R.O. Writer has been driving auto repair shops forward for more than 25 years. As this new version shows, we are just getting started.
I'd also stress that experience and stability are so important for your business. Shop management systems come and go. Most don't last very long. That's a major concern when choosing a shop management system is you get one and they go out of business. Now the first time you have a problem with your software, you're in trouble. There's no one there to support you. And the big, untested waters is what happens if you got an online shop management system that goes out of business. Do they just turn off the lights one day? Will you be able to recover all your data?
R.O. Writer has been in the market for a long time, more than 25 years, and we're also backed by a large company. R.O. Writer was acquired 2 years ago by Constellation Software. Having the support of a large software company has allowed us to focus on innovation, and to invest in modernizing our approach. For R.O. Writer users, that support is another reason you can be confident we're going to be there for you in the future. You don't have to worry that the company that supports the system you rely on to run your shop every day is going anywhere.
Q: Finally, how do current R.O. Writer customers get all the benefits of Version 3.1?
A: There are a lot of ways that you can upgrade your R.O. Writer, depending on what version you're on. Our most recent versions all support auto upgrades, which is the easiest.  For our current customers, we encourage you to become an early adopter of Version 3.1. In addition to all the benefits of the new version of R.O. Writer, having the latest version allows us to provide the best possible support to customers, as older versions are phased out. Version 1 is no longer supported as of January 1st, and support for Version 2 ends January 1st of 2024. We don't want you to lose support or miss out on all the improvements of Version 3, so upgrade today. For steps on how to upgrade to the latest version, visit https://info.rowriter.com/version-3/ .
https://info.rowriter.com/wp-content/uploads/2023/08/Hybrid-Cloud-3.png
720
1280
Pooja Chiplunkar
/wp-content/uploads/2021/10/ROWRITER-Iogo.svg
Pooja Chiplunkar
2023-08-24 08:44:52
2023-08-24 08:48:04
R.O. Writer Version 3.1 – Q & A with expert Rick Stermole. Part 3