Build Trust and Boost Sales
R.O. Writer's Digital Vehicle Inspection ("DVI") app allows you to replace clipboards and paper inspections with tablets and smartphones. Text your technician's inspection findings and recommendations alongside pictures and videos directly to your customers, so your customers feel empowered to make educated decisions quickly.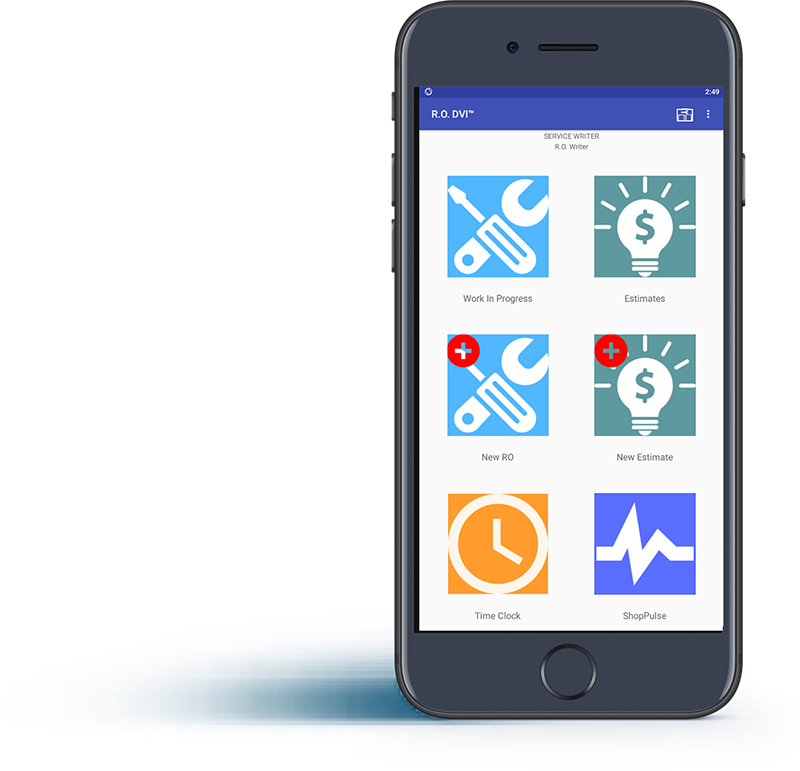 How R.O. Writer DVI Suite Drives Shops Forward
Create a More Seamless Service Writing Process
Eliminate the hassle of pen and paper checklists and go digital so you can easily share and reference inspections. Choose from our recommended default checklists to get you started or create your own.
Instantly text and e-mail your customer with photos and videos of your inspections' findings and recommendations.
Improve team communication by allowing managers, service writers, and technicians to message each other within the app.
Improve Quality Control
Quickly see which jobs are in progress and which are complete.
Ensure techs complete the digital checklists, so no items are missed. Choose from templated checklists or create custom checklists to fit your shop.
Guarantee customer approval on all work before any work begins by digitally capturing their signature.
Modernize Customer Communication
Close the communication gap between the bay and the customer by sending photos and videos to help educate the customer on the recommended services.
Use two-way texting to easily get in touch with customers. Schedule appointments or send appointment reminder directly from R.O. Writer DVI Suite.
Add personalized notes to help explain vehicle needs to each customer and overcome objections before they arise.
With the mobile app, technicians can greet customers car side as soon as they pull into the shop.
Track Progress from Anywhere
Remotely track the progress of a repair at any of your shop locations by accessing the DVI app on your tablet or smartphone.
See how many jobs your service writer or technician completed and what your sales are for any given date range.
Prioritize jobs so you can ensure you are completing critical jobs first and that you aren't overspending on labor.
Improve Shop Sales
Sell more jobs by validating the importance of suggested services through detailed notes, photos, and videos.
Use findings from DVI to recommend future services that bring customers back and use DVI to schedule those appointments.
R.O. Writer DVI Suite is Easy for Everyone to Use
Technicians
Train techs in minutes and increase workflow efficiency
Service Advisors
Build repair estimates while technicians perform inspections
Customers
Make educated decisions with easy-to-understand reports
Owners
Increase revenue through a more efficient inspections process
Why R.O. Writer for DVI?
The R.O. Writer DVI Suite can be used directly within R.O. Writer. There is no need to use two separate systems for inspections and shop management. Instantly sync your DVI results with your shop management system.
Book a demo
We Are Here for You Every Step of the Way
If you have questions, need a solution, or simply want to chat about the product, our shop management experts are available to you for fast support. Have a quick question? You can access our online product documentation at any time.
Team of Seasoned Experts
24/7 Online Help and Documentation
Training Webinars and Videos
Schedule a DVI Consultation Today
One of our product experts will get in touch with you to demonstrate how our leading automotive software can help your shop become more productive and profitable.