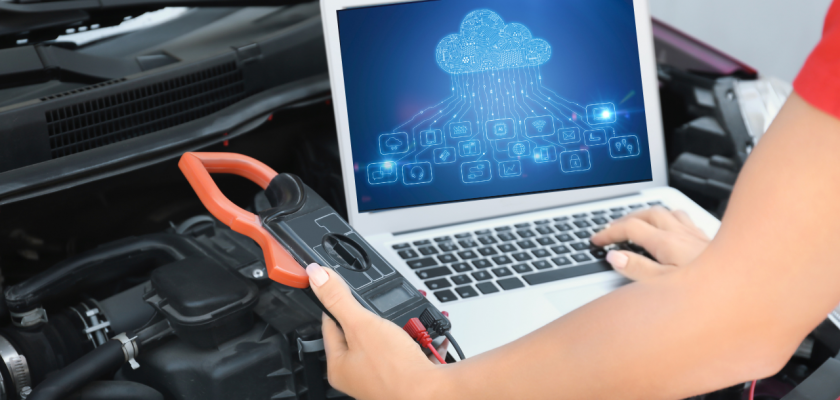 With the rollout of R.O. Writer Version 3.1, we sat down with Rick Stermole, Director of Business Development for R.O. Writer, for his take on what makes this new version so exciting, and to get a glimpse into the future of the leading auto shop management software. Rick joined the R.O. Writer team more than 20 years ago in 2001 and has been heavily involved in its development since then. Rick has 45 years of experience in the heavy truck and automotive aftermarket and holds several ASE Certifications, including ASE Master Certified Automotive Technician, ASE Master Certified Heavy Duty Truck Technician, and L1 ASE Certified Advanced Engine Performance Specialist.
In the first part of our interview, Rick talked about the new features of Version 3.1, including texting, online appointment requests, and integrations with NTW's new Metro System and O'Reilly Auto Parts' full online parts catalog. You can read that here. In this part of our conversation, Rick discusses a new development that will bring about a dramatic change to R.O. Writer.
Q: How does the release of Version 3.1 set the stage for transforming R.O. Writer for the future?
A: With the rollout of Version 3.1 we will also be introducing real time data synchronization between repair shops and the R.O. Writer cloud database, a major step forward for R.O. Writer and its users.
For R.O. Writer customers with multiple repair shops, this is a game changer that will make managing their business considerably easier and more efficient. Picture you own five repair shops and you have a main office where your administrative staff works, and they do your payroll, accounting (your payables and receivables), all the back office stuff. Now you need to get the data from the stores to the office. That has always been done through a program called Central Office. Currently, data on sales, inventory, scheduling and more from each individual store is updated daily in an overnight transfer from the stores to the customer's Central Office database. It's also doing replication, so if you've made any changes at the office, they can be sent to the stores. For example, you reset your prices. At night, those new prices are transmitted back down to the store. But again, it only happens at night, so the data is always a day behind.
With real time data synchronization, information will be updated instantly, so repair shop owners will always have an accurate, up-to-date picture of what's happening in their stores. If somebody starts a ticket in R.O. Writer, within seconds you can see it at the office. So what you're doing at the office is virtually now being done in real time. That's going to give them much more visibility into what's going on in the shop. For example, I want to know how many open tickets my shop has. At the office they'll be able to look and say "hey, that shop has 25 open tickets, they need some help over there."
When we first built this, everybody thought it was remarkable that they could see all of their data the next day. But in today's world, if you're seeing your data updates 10 seconds later, that's taking too long. People want important data instantly. We're changing the protocols on how data is syncing back and forth to get it to sync virtually in real time. That's why this is a big jump for us. This is exciting, groundbreaking stuff.
Q: What else does real-time data synchronization make possible?
A: Data synchronization is also the first step in moving R.O. Writer to the cloud. Right now, R.O. Writer is installed on our customers' desktops in their shops. Both the application and their customer database sit on their local computer. Real time data syncing with R.O. Writer 3.1 will eventually allow us to create a hybrid cloud solution for our customers.
With a hybrid cloud solution, the R.O. Writer software application and the repair shop's data sit both in the cloud and on their local computers. This is the best of both worlds for our repair shop clients. They get the speed of a cloud application, and the reliability of having their data backed up in a secure cloud database in the event something happens to their systems or their store.
Having your data backed up in the cloud, in an extremely secure setting, is increasingly important these days. If you get a computer virus, if your system is hacked or you accidentally download malware, your data is safe in the cloud. If there is a physical disaster, like a tornado or hurricane or fire in your building, your data is not lost. It is safely backed up offsite. You get secure cloud backup of your data without paying extra for it. In the event of a total data loss at the store, for whatever reason, your entire database can be recovered from its cloud storage and reinstalled in your store.
In addition, having the program and data also installed locally means that even if the Internet goes down, the repair shops can continue working in R.O. Writer and accessing their customer records. The biggest downside for anybody who's got a cloud hosted solution, is that if the Internet goes down, you're down. You can't access your system and you can't do anything. With this solution, if the Internet goes down, you can still start a ticket. You can still bill out customers. You can still do the normal work. Then when the Internet comes back up, it's just going to pick back up and get you back In sync, and away you go.
So it really is the best of both worlds. You don't lose your shop when you lose your Internet. Unfortunately there are still places, usually in large, rural and less densely populated states, where the Internet is slower and not as dependable. For those folks especially, knowing that an internet outage won't stop you from working is important.
And there are still some people that are very leery about not having total control over their own data with a cloud-based solution. If you go with a hosted solution, then you decide you don't like it and want to make a change, how do you get your data back if they're storing it in the cloud? Are they going to give it to you in a usable format? What if they don't give it to you at all?  There are some real concerns when you go with a hosted solution that you might be tied up for the long term.
With R.O. Writer, we're not doing that to you. Your database is installed locally, you've always got your data. If for any reason you leave RO Writer, you still have all your customers, all the vehicles, all the repair orders. Another shop management system should be able to convert that data and keep you running.
Next: Rick discusses how the team behind R.O. Writer prioritizes what new features and changes will make it into each new release, and his advice for a shop owner preparing to select a shop management software. Read more.
https://info.rowriter.com/wp-content/uploads/2023/08/Hybrid-Cloud-2.png
720
1280
Pooja Chiplunkar
/wp-content/uploads/2021/10/ROWRITER-Iogo.svg
Pooja Chiplunkar
2023-08-24 08:45:34
2023-08-24 08:47:00
R.O. Writer Version 3.1 – Q & A with expert Rick Stermole. Part 2