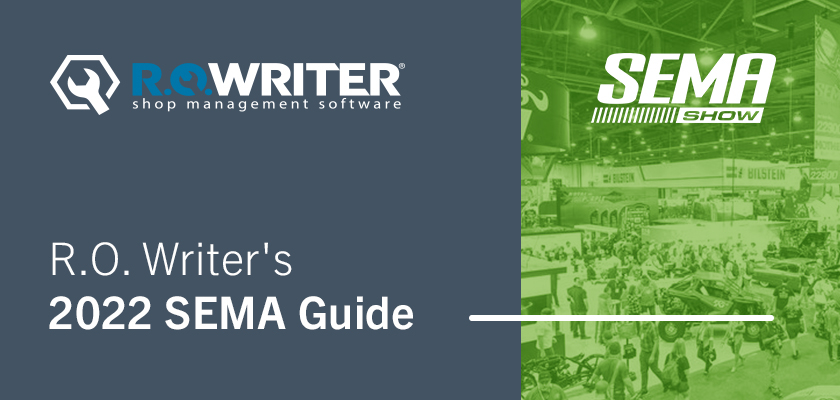 R.O. Writer's Guide to SEMA 2022
The 2022 SEMA Show is from Tuesday, November 1 to Friday, November 4, 2022, in Las Vegas.
We are looking forward to SEMA 2022! Will we see you there? If yes, stop by our booth #11820 in the North Hall. Our team will offer live demos and additional information on our latest enhancements and product releases, including R.O. Writer Version 3 and our latest release of R.O. Writer DVI Suite. While there, pick up some heavy-duty mechanic gloves or a Perka Kestin double-wall stainless steel mug.
This guide will help shop owners plan their SEMA trip. It includes the top sessions we think shop owners should attend and some tips to help you get the most out of your SEMA experience.
Our SEMA team looks forward to seeing some new and familiar faces.
Our Top Picks for Shop Owners: Session You Can't Miss
Session Title
Description
Speakers
Date and Time
Add to Your Show Planner
How Pricing Policy Saved Our Company
There's a lot of confusion over pricing policies. Hear how a pricing policy saved a company. Join an experienced team as they tackle the why and how to protect your brand's image from price erosion and devaluation. From understanding the legality of a pricing policy to the number-one reason why such policies fail and more, the session covers everything you want to know about a pricing policy.
Rich Barsamian, VP of Sales & Marketing at Advanced Clutch technology

Gene Zelek, Senior Counsel at Taft Stettinius & Hollister

Monday, October 31

9:00 AM – 10:00 AM PT

Link
How to Market and Sell in the Post-Pandemic World
The pandemic drastically altered the business world. What will the marketplace look like throughout the decade? How can your company adapt to an evolving business climate? Understand what drives customers' purchasing decisions and how to influence their journey. Gain insights into how to connect with B2B, B2C, or e-commerce buyers. Discover the tools and messaging to position your company as a market leader.
Daniel Grissom, CEO at Deal Closer Coaching
Monday, October 31

9:00 AM – 10:00 AM PT

Link
Uncover Strategies for a Profitable Automotive Business
Running an automotive business can be challenging. Whether dealing with cash-flow issues, looking to up your marketing game, or trying to hire the next best employee, this session is for you. Identify proven strategies to uncover hidden profits and build a consistent flow of qualified leads. Find out how to attract and retain talent and leverage your time, team, and money to grow your business with less effort.
Heather Yakes, Owner at ActionCOACH Central
Monday, October 31

11:00 AM – 12:00 PM PT

Link
10 Ways to Increase Revenue
Increasing revenue streams is essential to long-term success. Hear humorous and time-tested examples of real-world techniques to help shop owners, managers and salespeople increase sales. Understand how to build an impactful brand strategy. Get a handle on basic sales processes. Learn to identify areas of your business that need improvement and use a helpful checklist to activate a revenue-generating plan immediately.
Kelly McDonald, President at McDonald Marketing
Thursday, November 3

11:00 AM – 12:00 PM PT

Link
Proven Strategies to Recruit and Retain Top Talent
With unemployment at an all-time low, employers need to up their game to attract and retain top talent. Learn how organizations are using flexibility, compensation, engagement initiatives, and other cultural factors to influence their ability to hire, motivate and retain employees. Discover innovative approaches and tactics that best-in-class companies use to strategically position themselves as attractive and compelling places to work.
Angelia Pelham, CEO at Real-Talk Executive Coaching & Mentoring
Thursday, November 3

1:00 PM – 2:00 PM PT

Link
Our Top 3 Tips
1. Download the 2022 SEMA Show Mobile App 
The free 2022 SEMA Show Mobile App gives you access to a list of all exhibiting companies, seminars, events, and more. You can also use the 2022 SEMA Show Mobile App to contact and set up meetings with exhibitors/vendors of interest before arriving at the Show. The app also features the show map, so you can easily view the floor plan and all SEMA show halls. Create your own schedule within the app to track the events you wish to attend. You can add R.O. Writer to your show schedule here.
Download the app: Google Play | Apple Store
2. Visit the New Product Showcase
The New Products Showcase is located in the Upper South Hall of the Las Vegas Convention Center. The showcase has more than 3,000 of the latest exhibitor products displayed in one location.
With the SEMA Show mobile app's "Product Scanner" feature, use your smartphone as a scanner or simply grab a scanner at one of the "Free Scanner Pickup" booths around the New Products Showcase. Walk around and browse the more than 3,000 products in the showcase.
When you are done, return your scanner to the "Scanner Return" desk to instantly get a printout of all the products you scanned. The printout will contain key product information such as the product's description, image, booth number, and how to locate and contact the exhibitors who manufacture the products.
We will showcase R.O. Writer DVI Suite Version 2.3 release at this year's new product showcase. Learn about all the latest enhancements to our Digital Vehicle Inspection tool and see some new features in action.
3. Take Advantage of the Free Transportation
There are many ways to get around Las Vegas, but it's worth mentioning that free shuttle service is provided each morning and afternoon during SEMA. The free shuttle will run between the SEMA Show at the Las Vegas Convention Center and 35 official hotel partners. Save yourself some transportation fare and take advantage of these shuttles. View the shuttle schedule here.
Please note this website is not an official representative of SEMA. "Specialty Equipment Market Association," "SEMA," and other names of SEMA services or SEMA events are trademarks and service marks owned by the Specialty Equipment Market Association. This website is not affiliated with SEMA or SEMA Ignited. For more information on registering for the SEMA Show or attending SEMA Ignited, you must click the links provided.
To learn more about show details, visit the event website here.
https://info.rowriter.com/wp-content/uploads/2022/10/ROW-SEMA-LI-FB-Banner-25_10_2022-v2-copy.jpg
400
840
Petra Radic
/wp-content/uploads/2021/10/ROWRITER-Iogo.svg
Petra Radic
2022-10-19 13:31:14
2022-11-14 08:19:05
R.O. Writer's Guide to SEMA 2022