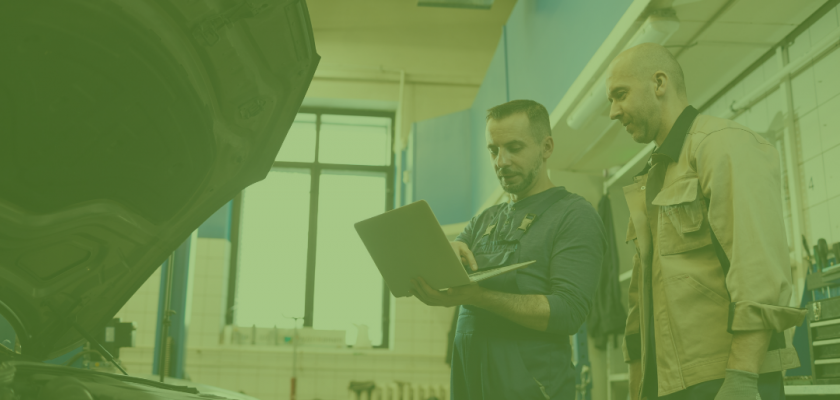 Vehicle MSRPs remain elevated, making purchasing a new car more expensive than ever. This prompts your customers to invest more in repairing and maintaining their current cars, which is great news for your shop. But as repairs get more complex and costly, customers can develop anxiety or even distrust around the scale and urgency of your recommendations.  
That's where technology like Digital Vehicle Inspection (DVI) can do some of the heavy lifting for you, by showing customers exactly what needs to be done to their vehicle. To see how DVI can help improve your customer experience, let's discuss what today's increasingly demanding customers want from their auto repair shop, and then examine how DVI can help meet those requirements. We'll start by considering what goes into providing a great customer experience for today's demanding customers. 
Auto Repair Shop Customer Experience (CX) is more than Sales and Service 
Customer experience, or CX, includes anything and everything involved with each customer interaction – from customer-facing employees to the people and processes behind-the-scenes. In the case of an auto repair shop, CX includes everything from intake to inspections and repair recommendations, to the quality of the work itself.  
You can have the most talented and seasoned technicians available, but if the processes around their interactions with the customer are not top-notch, CX still suffers. Similarly, regardless of how good your marketing efforts are, if your inspection is incomplete or hard for the customer to understand, your chances of providing a great customer experience drop. 
Technology like DVI software can help improve customer satisfaction at multiple points along the customer journey. Read on to learn how it increases convenience, speed, and transparency, three essential parts of a great customer experience. 
Transparency builds trust with auto repair customers 
Your auto shop repair customers, like other modern customers, are seeking higher levels of transparency from your shop. Rather than accepting recommendations at face value, they are likely to be more comfortable reviewing a comprehensive inspection report, especially when a repair is likely to be costly or complex. 
Digital vehicle inspection software allows you to meet the customer need for transparency by eliminating incomplete, hard to read, and inefficient handwritten inspections. Digital inspections can include multiple pictures per item, text markup to draw emphasis to problem areas and even videos – everything a customer might need to make an educated decision about their vehicle repair. 
Busy auto repair customers seek convenience and speed 
Customer convenience is also a top priority in these busy times. When customers see their vehicles moving through the repair process rapidly, they feel that their time is being valued. After all, who doesn't like feeling that their needs are a priority? In auto repair, time can easily be wasted through manual processes like paper and pen estimates, or when shops must play phone tag with customers to review estimates and get approvals. 
Digital vehicle inspections help improve the customer experience in this regard because your shop can provide the customer with an estimate via text or email, with all the photos and videos required to help them understand the problem and proposed solution. Then the customer can approve the estimate from wherever they happen to be, with no delay. This approach is fast and convenient for the customers, and for your shop as well. 
Your customers and your shop also both benefit if your DVI solution is a native integration to your core shop management system. With this integration in place, managers and owners can clearly understand how many service jobs the business has at a given time, and review sales numbers for a given date range. That can help when determining staffing and inventory at different times of the year, ensuring that customers don't have to wait for parts or personnel to get back on the road, even in busy periods. 
A single bad experience can impact your bottom line  
Customer experience really is the secret to customer retention and business growth for auto repair shops. Today, more than 80% of customers say they would switch to a competitor after three poor experiences or fewer. In fact, 15% of customers would switch service providers after a single bad experience (Source). That does not leave much room for error! 
On the other hand, there's an enormous  market for forward-thinking auto repair shops that put the customer first. AAA notes that a remarkable 75 million Americans do not yet have a chosen auto repair shop that they trust. By investing in the tools you need to offer an effortless and convenient customer experience, you can entice these potential customers to become regulars, setting the stage for business growth and lasting success. 
Digital vehicle inspection should be part of any modern auto repair shop's broader customer experience strategy. DVI reduces errors and improves efficiency internally at your shop through workflow management tools and digital checklists, so the repair is completed quickly and accurately, and the vehicle is returned to the customer sooner. Plus, DVI improves customer communication and boosts satisfaction throughout the repair process, with accurate and comprehensive digital estimates delivered through preferred channels.  
See how R.O. Writer DVI Suite Can Benefit Your

Shop
R.O. Writer's Digital Vehicle Inspection ("DVI") app allows you to replace clipboards and paper inspections with tablets and smartphones. Text your technician's inspection findings and recommendations alongside pictures and videos directly to your customers, so your customers feel empowered to make educated decisions quickly.
https://info.rowriter.com/wp-content/uploads/2023/10/Combine-words-related-to-your-auto-repair-shop-and-how-you-want-to-be-perceived.-Use-a-business-name-generator-or-even-AI-to-find-more-options.-Avoid-hard-to-spell-long-or-confusing-names.-Test-5.png
600
1080
Pooja Chiplunkar
/wp-content/uploads/2021/10/ROWRITER-Iogo.svg
Pooja Chiplunkar
2023-10-16 10:40:51
2023-10-16 21:31:07
Digital Vehicle Inspection, the Key to a Great Customer Experience