Overview
Founded in 1970, the International Midas Dealers Association (IMDA) is a group of Midas dealers that strives to protect the Midas brand, improve franchisee profitability, and position Midas as the go-to choice for automotive service. The IMDA operates as a strong network of single and multi-shop Midas franchises, representing the best interests of Midas dealers, vendors, and suppliers. R.O. Writer is the preferred vendor for all Midas locations in the U.S. and is used in thousands of shops.
Gus Herlong is President of the IMDA and President of Palmetto Garage Works LLC headquartered in Columbia, South Carolina, a Midas Auto Service and Speedee Oil Change franchisee.
R.O. Writer and Midas Shops
In 2008, Gus's father purchased five Midas Auto Service locations across Columbia. Gus and his father bought the locations with R.O. Writer already installed on the shops' computers. Since 2008, the software has grown alongside Gus's business. The business acquired 14 more Midas stores and 6 SpeeDee Oil Change stores in multiple states, expanding to a total of 25 locations across the two brands, Midas and SpeeDee Oil Change.
"
R.O. Writer is a really robust program with a lot of tools and reporting, says Gus
With more than 25 shops and over 170 employees, Gus's shops use R.O. Writer to streamline their operations and optimize day-to-day tasks that improve productivity and customer service.
When we asked Gus about his experience with R.O. Writer, he said, "My experience has been self-taught, which was good because I knew a lot of the ins and outs of R.O. Writer. I'm not a technology guy, but from a business standpoint, I can say it's a strong writing service. It has helped us sell more profitable services."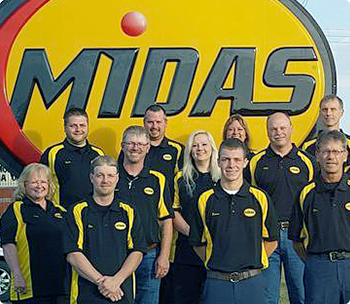 One of the biggest benefits of R.O. Writer is flexibility. Gus further stated, "I like that it can be customized for your business. I like that it can be interconnected with many facets, and you can centralize a lot of the components into R.O. Writer."
R.O. Writer empowers auto repair shops to manage every aspect of their business and encourage their expansion. This is particularly useful for Midas franchisees that are dealing with several locations and many employees.
Key Benefits
Flexibility to customize the software to meet the needs of your business
Ability to centralize your business operations
Robust program with multiple tools to cover several aspects of your repair shop needs
Seamlessly integrates with repair guides like ALLDATA and Identifix
Capability to easily create estimates and invoices