In 1986, Bob and Debbie Shanahan started an auto repair business, in a six-bay rented shop with one additional tech. You might think that back then, Bob and Debbie would have had no idea that 36 years later they would have a thriving business with a team of seven employees and a loyal customer base – but you would be wrong. From the beginning, the Shanahans had a clear vision for DuPage Tire & Auto Center, and knew where it was going.
"Everything we have done over the years has been part of a plan for the long-term success of our business," Bob said. "In 1992, as we grew, we expanded into a new eight bay shop that we built. Over the years we assembled a wonderful team that provides full-service auto repair and tire sales, with a focus on quality and service. We wanted to build our business based on trust and loyalty."
DuPage Tire & Auto's focus on customer service, and building trust, is evident in their motto: "If you don't know your car, know your mechanic!". Trust is a common theme in recent customer reviews on their website:
"If I can't do the repair myself, I take it to DuPage Tire & Auto. They are the only people I trust. They have never let me down. Highly recommended."
"They know their customers and their vehicles. They stand behind their work. They are a local, family-owned business that cares and works hard to earn and keep the trust of their customers."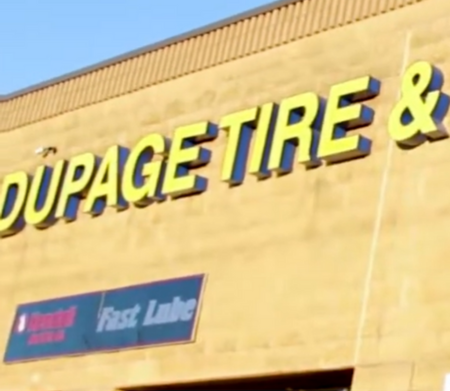 Streamlining Operations for Increased Efficiency and Accuracy
As another part of their long-term vision, the Shanahans recognized early on that they needed to make running their shop more efficient. They knew they needed a system for better record keeping, not only of customer data and vehicle history, but of inventory for parts, tires and supplies. They understood that automating the business would result in enormous time savings and improved efficiency and accuracy.
"We were handwriting custom printed repair orders," Bob explained. "Three copies – one for the customer, one filed by invoice number, and one alphabetical in the customer's file. We had to have a service writer manually create a file for each customer and each car they had by dated order, so we knew the vehicle history, and to keep track of where parts were purchased from. It was very time-consuming, but very valuable to have those records when needed. We also kept handwritten inventory cards on parts and tires that we stocked in our inventory including pricing and where purchased.
I remember an outside salesman came in one day and asked what we needed, and I would need to go to the shop wall where we hung all the belts & hoses to see what was missing and go upstairs and look in the cabinets to check ignition parts & spark plugs and check inventory cards on tires. He mentioned that another shop he had just been in had a new shop management system and all he had to do was click a few keys and the computer printed out the stock order. This was all new in our industry, but something that we really needed."
Discovering R.O. Writer: A Journey to Efficient Auto Shop Management
In Bob's investigation into auto shop management software, he came across R.O. Writer. His real introduction, however, was at an auto parts industry trade show, where he visited the R.O. Writer booth. In the end, there were a lot of factors that led the Shanahans to selecting R.O. Writer.
"Our shop sold tires, and we wanted to be able to quote out-the-door pricing including mounting, balancing, taxes and disposal," he said. "R.O. Writer had a tire module that would do all that and the other companies didn't. I also wanted flexibility with wording in the labor operations to explain fully on the repair order what was done. We do complete auto repair and didn't want to be locked into canned wording. R.O. Writer told us we could build our own wording for saved jobs and edit as needed.
We also wanted to transfer all of our customer database that we kept on an Excel spread sheet into R.O. Writer so it didn't have to be manually entered. R.O. Writer said they could do that, also. We were still worried; would this company be there for us 5 or 10 years down the road? That's funny to say now, as next month it will be 20 years that we have been with R.O. Writer. We still couldn't decide until we went to another shop in the area to see firsthand how this program worked in real life. That really sold us."
Unleashing Efficiency at DuPage Tire & Auto Center: R.O. Writer's Impact on Parts Management
That was 2003. Twenty years later, DuPage Tire & Auto Center uses R.O. Writer for every part of their business. When asked for his favorite features, Bob had a hard time narrowing it down.
"Smart eCat [R.O. Writer's online parts catalog] is a huge feature for us, to be able to search multiple parts venders quickly and check availability and pricing on the brands that we know and like," Bob said. "This saves so much time and money that would be spent logging into or calling each vendor separately. It also puts the parts directly on the repair order which eliminates the chance of forgetting to charge the customer for ordered parts. And it puts the order into accounts payable so at the end of the month when the statement comes from the parts vendor, it's easy to match up. Also, we use the link to RepairLink to order factory dealer parts."
"We continue to love and use the Tire Quote module to quickly check out-the-door pricing on tires," he continued. "And can now also check our favorite tire warehouse for inventory and pricing directly through R.O. Writer. We also love using the Digital Vehicle Inspections as part of the R.O. Writer system as it ties the inspection and pictures to the customer's repair order, rather than a separate standalone system. And we can email or text the customers as needed through this feature."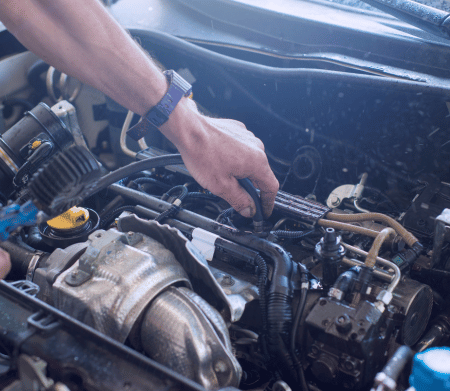 R.O. Writer's Tools and Support Empower Bob's Auto Shop
Bob says he personally likes and uses R.O. Writer's daily calendar for scheduling. His service managers use the Smart Status program that shows them the status of each repair order from open to completed, and the technicians assigned. They also use the Oil Change Reminder Sticker printer through R.O. Writer.
Bob also stressed the importance of having strong support backing your shop management solution.
"
"About four months ago our main computer decided to stop working," he recalled. "The auto back-up feature came in very handy when we called Tech Support, and they used that data to get us up and running very quickly. A program is only as good as its Tech Support and that day, they proved it."
In-person or virtual onboarding
Quick support response
Online help
Videos
Webinars
How-to guides
Easy to access documentation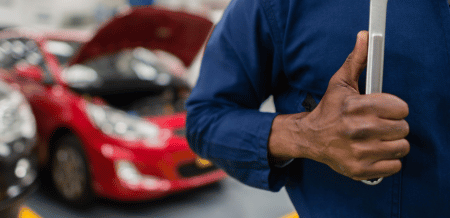 Bob's Advice for Owners Shopping for New Shop Management Software
What is Bob's top piece of advice for repair shop owners looking to install or upgrade their software?
"
"I don't know if there is a shop management system that is perfect for every shop," he said. "You just have to pick one that fits the majority of your needs and work with it. R.O. Writer is a powerful shop management system to organize and streamline your business, and it's flexible. I know we wouldn't be where we are today without a great shop management system like R.O. Writer. Thirty-six years and still growing."