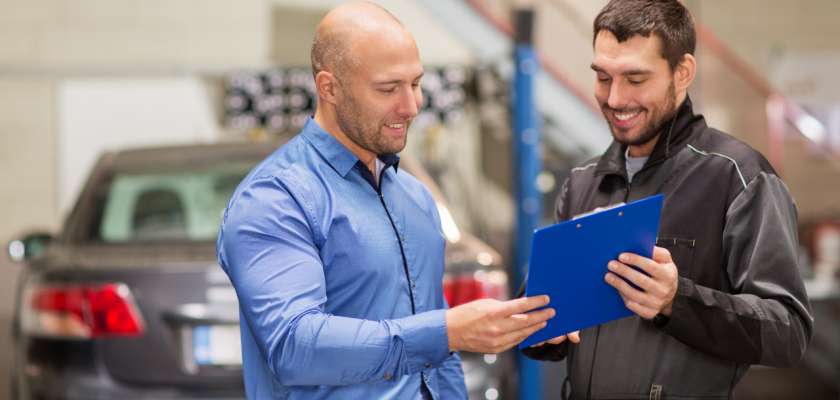 Getting customers into your shop is only half the battle. To build a thriving auto repair business, you also want to maximize sales once customers come in for servicing.
Selling more to your customers involves figuring out the suitable pricing model, increasing your average repair order, and maximizing customer lifetime value through upsells and cross-sells. So how do you get customers to buy more than they came in for without seeming pushy and losing customer trust?
This blog looks at five simple ways to increase upsells and cross-sells while strengthening customer relationships.
1. Focus on Oil Changes
One of the best ways to get customers in the door is to bring them in for oil changes. Customers have many options for oil changes – they may even do them themselves. However, if you can entice them to come in for an oil change, you increase your odds of selling more.
A survey by UpSwell Marketing finds that the three most attractive offers for auto repair shop customers are a free tire rotation with an oil change, a discounted oil change, and a loyalty program. Loyalty programs can be tied into oil change offerings.
Every additional customer in your shop is an opportunity to sell additional services to that customer. A great way to start down this path is to offer a courtesy multi-point inspection with every oil change. Digital Vehicle Software can allow you to quickly build professional inspection reports for your customers to help them understand the value of each recommended service. See tip five to learn more about DVI software.
Even if you find nothing wrong with the vehicle, that's great too. Simply getting customers to come to your shop for the oil change can build stronger customer relationships and increase repeat business.
You want customers to think of your shop for all issues, big and small. Maybe they will only come in for a discounted oil change today, but next time their check engine light comes on, they could be more inclined to think of you.
Using R.O. Writer's Smart Oil will help you quickly build oil change tickets – selecting the right viscosity, capacity, and pricing – making it easier for your shop to manage these smaller jobs.
2. Emphasize Tire Sales
In addition to oil changes, tire sales are another great focal point for auto repair shops. The UpSwell Marketing survey also shows that while 57% of respondents buy tires from a tire shop, 37% buy them from an auto shop. So, there is an opportunity for many auto repair businesses to win market share from tire dealers.
One way to do so is to offer promotions and increase your overall marketing about this offering. Customers might associate specific brands with tires, which leads them to purchase from those dealers. But if you can make your way into customers' minds regarding tires, you can improve your odds of getting those sales.
Auto repair shops can also emphasize convenience when it comes to tires. If you are performing other service work and you recognize that the customer needs new tires, you can offer to take care of the replacement as part of the same order. That way, the customer doesn't have to spend time going to a different shop.
Even if you cannot match a tire dealer's prices, you can be upfront with a customer about that. Explain that, because of your margins, your price for a set of tires is, for example, $100 more than a national competitor, but the customer could avoid the hassle of taking their car elsewhere for that work. You could also offer incentives like a free or discounted tire alignment to go along with the purchase of new tires.
R.O. Writer's shop management solution, Tire Quote, helps owners build tire jobs. Tire Quote allows shops to quickly check their on-hand inventory, identify the proper tire size, order from popular tire distributors, easily convert quotes into jobs, and more. To learn more about Tire Quote, click here.
3. Schedule the Next Appointment
Another way to boost revenue is to schedule the next appointment while you have the customer in front of you.
Doing so might not be upselling in the traditional sense, but it can be a low-pressure way of getting the customer to keep coming back for additional service needs, which can increase sales over time. A survey by Auto Apps found that 50%-60% of customers do not return the following year. Focusing your efforts on customer retention can significantly improve profitability.
For example, if a customer enters the shop to replace their brake pads, and at the end of the service, you mention a promotion on oil changes. While they might decline the service, you could schedule them for when they are due for their next oil change.
Alternatively, if they are coming in for regular maintenance, you could schedule them for a check-up six months later.
R.O. Writer has integrations to tools like CARFAX to see vehicle history and better understand what customers need for their next appointment. Other integrations with tools like MotoLogic and ALLDATA provide Factory Maintenance Schedules, so you can easily schedule customers for factory-recommended maintenance. For a complete list of partner integrations, click here.
4. Provide Helpful Reminders
Regarding scheduling the next appointment, you should also provide reminders that make it easy for customers to come back for additional servicing. The trick, however, is to figure out how customers prefer to receive reminders.
A J.D. Power survey found that 42% of customers prefer getting reminders via text. And you can use software like R.O. Writer's DVI Suite to stay organized and automate text reminders (the platform also has two-way communication capabilities so that customers can ask questions). Others, however, might prefer alternate forms of communication like email, phone calls, or postcards. R.O. Writer integrates with some of the best marketing platforms to offer owners a variety of marketing channels through which auto shop owners can advertise and stay on top of their marketing efforts.
Ask your customers when scheduling an appointment how they would like to receive reminders, and then follow through with that approach.
As Jeff Tremper, Founder and Executive Vice President at Throttle, a marketing platform integrated with R.O. Writer, noted in an R.O. Writer-hosted webinar in 2022, taking small steps to improve convenience leads to better marketing results.
5. Show, Don't Tell
Lastly, to land upsells and cross-sells, show your customers what you recommend, when possible, rather than just telling them.
Building customer trust can be challenging, especially given that many people think auto repair shops make unnecessary recommendations. That's the top reason behind two out of three U.S. drivers not trusting auto repair businesses overall, according to a survey from AAA.
This makes it important to show customers your recommendations. The best way to do this is by using digital vehicle inspection (DVI) software to document problems with photos and videos. You can increase the odds of customers agreeing to the work. In fact, as set out in the J.D. Power survey, "When customers receive a photo or video communication regarding their needed maintenance work, they are three times more likely to have advisor-recommended work done."
Pull Everything Together with Shop Management Software
Upselling and cross-selling can help your auto repair business grow revenue and increase profits but staying on top of these jobs can be challenging. That's where shop management software like R.O. Writer comes in. With the right platform, you can streamline and automate customer management so that upsells and cross-sells become a core part of your business.
https://info.rowriter.com/wp-content/uploads/2023/01/Blog-Hero-Image-5-Upsell-and-Cross-Sell-Ideas-to-Drive-Auto-Repair-Shop-Revenue.png
720
1280
Petra Radic
/wp-content/uploads/2021/10/ROWRITER-Iogo.svg
Petra Radic
2023-01-05 15:25:26
2023-05-04 12:04:00
5 Upsell and Cross-Sell Ideas to Drive Auto Repair Shop Revenue