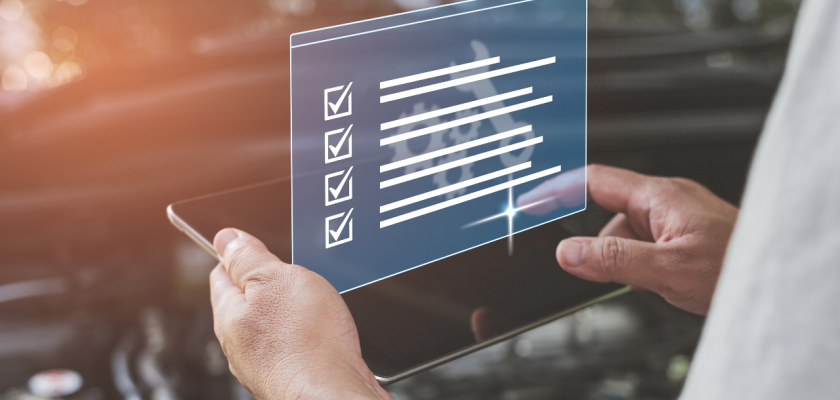 While your auto repair shop may pride itself on providing personal service, that doesn't mean you need to forgo technology. Instead, using software such as digital vehicle inspection (DVI) software can help you increase efficiency in ways that delight customers. In turn, that can increase sales.
Spending less time making repair checklists, for example, means service advisors can spend more time getting to know customers. And communicating with customers via their preferred methods, such as text messages, can help you improve the customer experience so that they become repeat customers.
As a J.D. Power survey finds, 42% of customers prefer getting texts from service departments about reminders for upcoming appointments or to provide status updates for current service work. So, you don't necessarily need to make texting your only communication method, but offering it can help.
In a press release, Chris Sutton, Vice President of Automotive Retail at J.D. Power, notes that those "who meet customers on their preferred communication channels are gaining an advantage. Service departments need to jump on the technology train now or risk being left behind."
In particular, jumping on the DVI train, which enables you to manage inspections using smartphones and tablets rather than clipboards and paper, can provide several benefits to auto repair businesses. These include:
1. Increasing Overall Shop Profits
DVI software, like R.O. Writer's DVI Suite, helps keep all your service jobs organized and lets you clearly communicate with customers about service jobs. That helps increase profits in several ways. For one, being able to take pictures and videos with a DVI system helps customers visually understand your service recommendations, which could make them more likely to go through with the work.
From there, service advisors and technicians can easily access those same pictures and videos, along with digital service checklists, to complete the work accurately.
If everyone is on the same page, you can get more work done in less time, boosting sales without needing to hire more hard-to-find staff. If you can minimize mistakes—like a technician misreading an advisor's handwriting—you can cut down on the need to perform corrections that cost more time and money.
R.O. Writer's DVI Suite syncs with the overall shop management system. Managers and owners can clearly understand how many service jobs the business has at a given time, as well as look at sales numbers for a given date range.
That can help when determining staffing and inventory at different times of the year.
2. Increasing the Value of the Average Repair Order (ARO)
Related to increasing profits, a DVI software can also increase the value of your average repair order (ARO). That's important, because as costs continue to increase, raising your ARO can help you stay ahead.
How does a DVI increase your ARO? One clear connection is that the software can help convince customers to agree to repairs and maintenance. Rather than telling customers what you recommend for servicing, you can show them through photos and videos that go along with detailed notes.
You can demonstrate what services are necessary, which prevents customers from thinking you are trying to oversell them and encourages them to approve the suggested work. You can also recommend future services based on DVI findings, thereby increasing a customer's lifetime value.
"The top reason consumers said they struggle with the industry is because repair shops tend to recommend unnecessary services: 76% of those surveyed cited this as their biggest trepidation," notes a survey from AAA.
Technicians and service advisors can also collaborate to build more accurate estimates. That can improve customer trust and get them to go ahead with suggested jobs, rather than just selling a job that includes tire balancing, for example, you might sell a higher-value order that includes tire alignment.
3. Improving Efficiency
With R.O. Writer's DVI software, your team can work more efficiently. For example, rather than taking the time to manually create a service checklist for each customer, you can get started with our default checklists or you can create your own templates.
Service advisors can also more efficiently communicate with customers over text and email. You can send photos and videos from inspections so customers can review this information on their own time, avoiding the need for lengthy phone calls.
R.O. Writer's DVI Suite has automated capabilities, like sending automatic text appointments and reminders to customers who opt-in to this communication method. Again, that saves time for your staff while providing a smooth experience for customers.
4. Improving Productivity
Not only can you save time with a DVI system, but you can get more work done too. Increase productivity by getting all team members — e.g., managers, service advisors, and technicians — on the same page.
Within the software, you can easily message other team members and see status updates. A service advisor, for example, should be able to help more customers if they don't have to spend as much time chasing down technicians to get updates.
Plus, having a good overview of all the service activity in your department can help when it comes to prioritizing work. Knowing which jobs are critical can help employees focus on completing those first, rather than spending time on lower-value tasks.
5. Gaining Customer Trust
Lastly, using a DVI software can help gain customer trust, which feeds into increasing your ARO and overall profitability. By adding images, videos, animations and detailed notes to each check-list item, it helps educate the customer on the importance of each suggestion service.
Customers can understand your recommendations and take time to consider them on their own, rather than feeling pressured to quickly decide what to do over the phone or in person.
As you improve quality control throughout your business by staying organized and efficient with the help of DVI software, you can build customer trust in your service capabilities. That, combined with smooth customer service, can help with retention.
Overall, DVI software can help your service business grow while providing a better experience for both customers and employees. If you want to achieve these goals, book a DVI demo today to see how the software can help your shop.
https://info.rowriter.com/wp-content/uploads/2022/11/Blog-Hero-Image-DVI-Version-2.3-release-4.png
720
1280
Petra Radic
/wp-content/uploads/2021/10/ROWRITER-Iogo.svg
Petra Radic
2022-11-23 12:41:33
2023-05-08 01:32:18
5 Ways Digital Vehicle Inspection Software Can Grow Your Auto Repair Business